The Oklahoma City Thunder will be without
Reggie Jackson
and
Jeremy Lamb
for the third straight game, as the two guards have been declared out for Oklahoma City's contest Saturday against the Nuggets. Lamb is recovering from a back injury suffered this past Monday during practice, while Jackson has been nursing a right ankle injury that occurred during the same practice.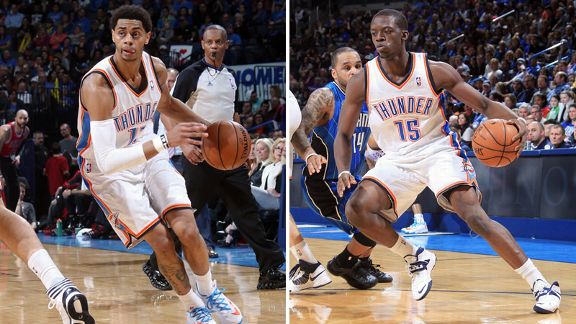 Getty Images
After major injuries to
Russell Westbrook
and
Kevin Durant
, the Thunder are left with a starting lineup that only sees
Serge Ibaka
as a returning starter. Jackson and Lamb will surely attempt to replace the voids left by the stars, however Oklahoma City will have to wait until later this week to see how they do. As reported by Thunder writer Royce Young, this leaves the team with just eight active players.
Jeremy Lamb (back) is doubtful for tonight as well. Looks like the Thunder will be going at it with just eight players again.
— Royce Young (@royceyoung) November 1, 2014
Perry Jones
scored 32 points in Oklahoma City's recent three point loss to the Los Angeles Clippers in Kevin Durant's starting small forward spot, and the Thunder will look to Jackson to produce similar results in Westbrook's absence. For now
Sebastian Telfair
will run the show for the Thunder, however he will most likely return to the bench upon Jackson's recovery.
Andre Roberson
has started both of Oklahoma City's games at the shooting guard position because of newly-acquired
Anthony Morrow
's MCL sprain, however when Lamb returns both he and Roberson will likely see significant minutes.
Like what you're reading? Subscribe to our email list for daily injury updates!
Follow @sprtsinjryalert
For more commentary and analysis, visit our friends at Last Word on Sports!